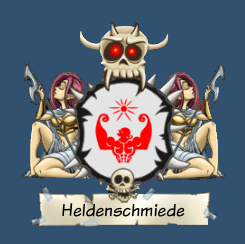 Wir sind ein fröhlicher Haufen überwiegend deutscher Spieler
und sind immer wieder mal auf der Suche nach Nachwuchshelden.
Was wir bieten:
200% Erfahrungs- & Goldbonus
27% Schadensbonus durch Gildenportal
täglich 2 Kämpfe
angenehmens Gildenklima
schwarze Edelsteine und Ritterhallensumme 664
eine Langzeitperspektive in der Oberliga (Top10)
stressfreies Spielen ohne übertriebene Anforderungen
Was wir von dir erwarten:
du spielst 100 Abenteuerlust am Tag (oder mehr)
du bist Level 200+ (Ausnahmen bei aussagekräftiger Bewerbung!)
du reitest ein Tier, das einem Helden würdig ist (mindestens 30%)
du hast ein gut gefülltes Sammelalbum
du meldest dich zuverlässig zu Kämpfen
du bringst längerfristige Motivation mit
du meldest dich bei Inaktivität (ab 3 Tage) ab

Du möchtest dich zum Dienst melden oder brauchst noch mehr Informationen?

Schreib am besten eine Ingame-Mail an
DeXtErOcIn, Raxes oder mich (Mampf)

----------------------------
(English version)

We are a happy bunch of mostly German players (but we welcome everyone and already have members from e.g. Poland and Egypt)
and we are searching for new heroes from time to time.
We offer:
200% experience- & goldbonus
27% damage bonus because of guild portal
black gems and hall of knights sum of 664
2 fights on a daily basis
a nice guild atmosphere
good perspective for your development in the long term
stress-free gaming in a top10 guild
What we expect:
you play 100 thirst a day (or more)
you are level 200+
you have 30% or better mount
you actively fill your scrapbook
you register for fights
you are motivated in the long run
you send us a short message in case you are offline longer than 3 days

You want to join or need more information? Write/apply ingame to one of us:
DeXtErOcIn, Raxes or me (Mampf)